How To Import WhatsApp Chats
How To Import WhatsApp Chats
Updated by Jair García
How To Import WhatsApp Chats to Your Team Inbox
If you are a business wanting to migrate your old WhatsApp Chats from WhatsApp Business App to Team Inbox, this tutorial is very important for you.
In this quick tutorial, you'll learn how to import WhatsApp chats into your Team Inbox.
Firstly, you will have to back up your chats. It is merely simple to backup WhatsApp chats, and to make it simpler WATI has a plugin to do that.
To use this plugin, you must use a Chromium-based browser such as Google Chrome, Microsoft Edge, etc.
To download the chat backup plugin on Microsoft Edge Browser, you can use this link - https://microsoftedge.microsoft.com/addons/detail/backup-whatsapp-chats/npifjiiiakjmpgcihhbooajmpdjjnflp
There is also a detailed step-by-step guide related to this which tells you how to easily and without coding backup WhatsApp Chats for free. 
CLICK TO VIEW How To Back Up WhatsApp Chat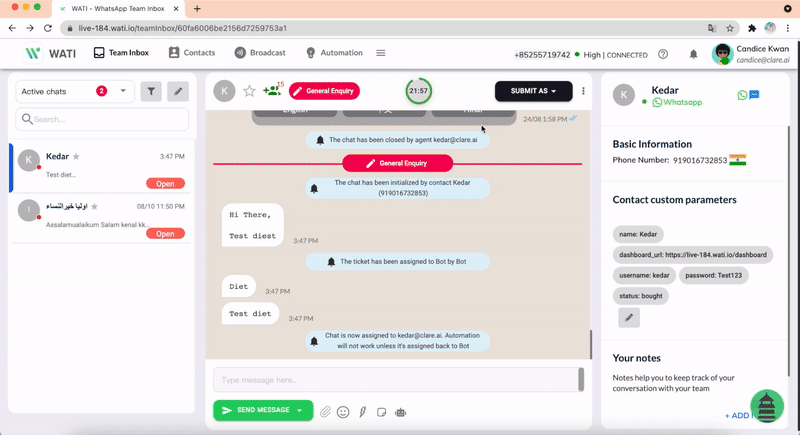 5 Steps to restore backed up WhatsApp Chats:
Login to WATI and navigate to "Settings".
Then in settings, navigate to "Import Chats".
After that, you may see two options either to install the plugin and do the required steps or to import the zip file after you backup your WhatsApp Chats.
Click on the blue button which says "START IMPORT".
After that, you can go navigate back to Team Inbox and find all your chats.
In this easiest way, you can import all your WhatsApp chats to your Team Inbox.