WATI Account running Slow
WATI Account running Slow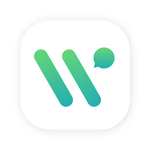 Updated by Helpdesk
WATI Account Running Slow
We have stopped using hello@wati.io for contacting customer support. Please email us at support@wati.io for any support/technical queries or at billing@wati.io for any billing issues.
Issues you might have faced
You must sometimes face issues where you notice that your WATI is not responding as expected and is a bit slow. You might have faced issues like:
The team inbox is loading slowly
The chatbot is responding slowly
The loading wheel keeps loading
The Team Inbox shows an error "Network Disconnected"
What can you do in such cases to maybe make things work?
How to fix the issue?
This is not a definitive solution but it can maybe help to speed up your WATI account, you can:
Try to login into WATI with a different browser, as maybe the current browser is having some bugs.
Try logging in with different devices, and maybe try to change your phone or laptop to see if the speed gets better.
Test your internet connection speed, you might see a decrease in speed with WATI if your internet speed is slow.
What if nothing is helping?
If you have tried everything mentioned above, and you cannot improve the speed of your WATI Account we would need you to download the har file and send it to us for further investigation.
Steps to Generating a HAR File:
Note: Keep in mind that HAR files contain sensitive data, including the content of the pages you downloaded while recording and your cookies. This allows anyone with the HAR file to impersonate your account and all the information that you submitted while recording (personal details, passwords, credit card numbers, etc.).
Generating a HAR file for Chrome Browser:
Open Google Chrome and go to your WATI Team Inbox page
Click on the three dots on your chrome and then click on More Tools -> Developer Tools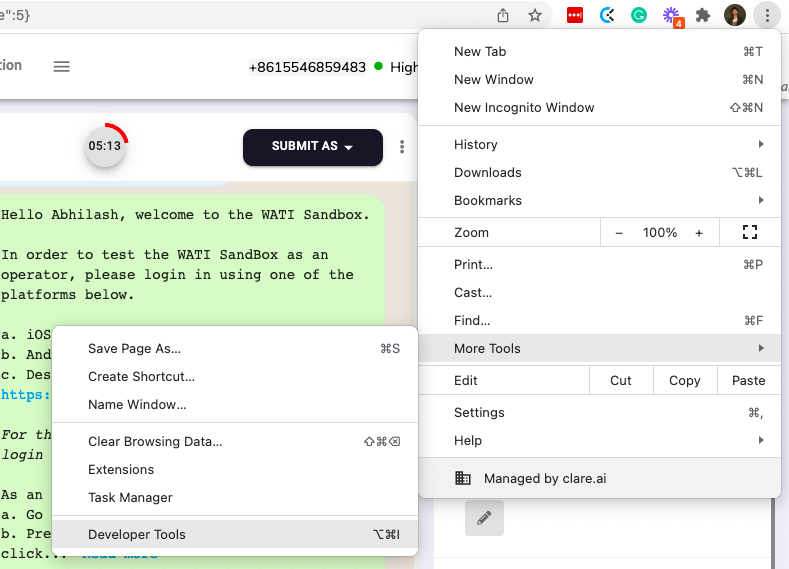 You will see a panel opened, click on Network then

Look for a round red Record button in the upper left corner of the tab, and make sure it is red. If it is grey, click it once to start recording.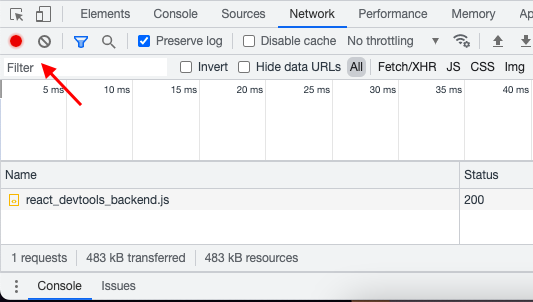 Check the box Preserve Log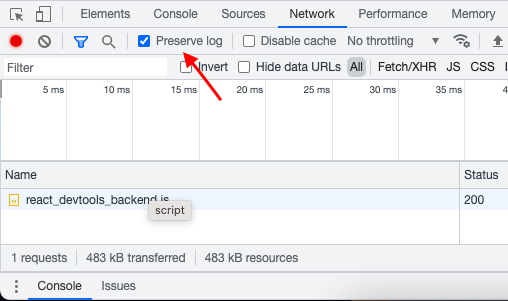 Click the clear button next to the red record button to clear any existing logs.
Now refresh the team inbox page and try to reproduce the issue that you think was slowing down your WATI Account.
Once it is done, click on the export HAR file.

Now once, everything is done you can send the HAR file for investigation on support@wati.io with the error description.
Generating a HAR file on Safari:
Before generating the HAR file, make sure you can see the Develop menu in Safari. If it is not there, follow the instructions under Use the developer tools in the Develop menu in Safari on Mac.
Open your WATI Team Inbox on Safari
Open the Develop menu and select Show Web Inspector.
Click the Network tab and complete the activity that is causing issues.
Click the Export icon on the far right of the network tab and save the HAR file.
Now once, everything is done you can send the HAR file for investigation to support@wati.io with the error description.
Here is a short video explanation of how to generate a HAR file: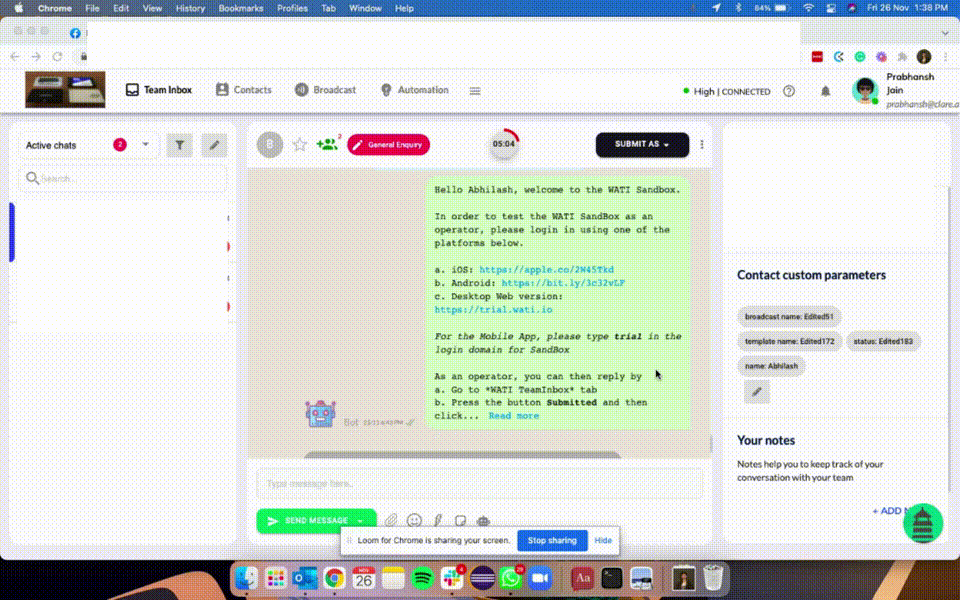 Thank you!