How to collect data using Google Spreadsheets
How to collect data using Google Spreadsheets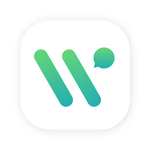 Updated by Helpdesk
Please note this Google Spreadsheets feature is an add-on to the regular plan and is charged separately
What can this do?
This is a feature within our Pro Plan add-on, which allows you to collect the data your users provide in Whatsapp and automatically feeds into Google Spreadsheets, reducing the need to manually input data. No additional installation is needed.
Why do you need it?
This feature is handy for small business teams who don't have the budget for a separate CRM feature, or if your team spends a lot of time manually inputting data, you can capture the data you need automatically into Google Spreadsheets. Reducing both time and cost for your company.
Setting up your flow and configuring Google Spreadsheet
Create your flow:
Go to Automation
Flows
+ Add Flow
Drag elements on the left to create flow
Where you slot the Google Spreadsheet button, this is when it will trigger to input the data. You can also choose to slot it after each data entry point if you wish.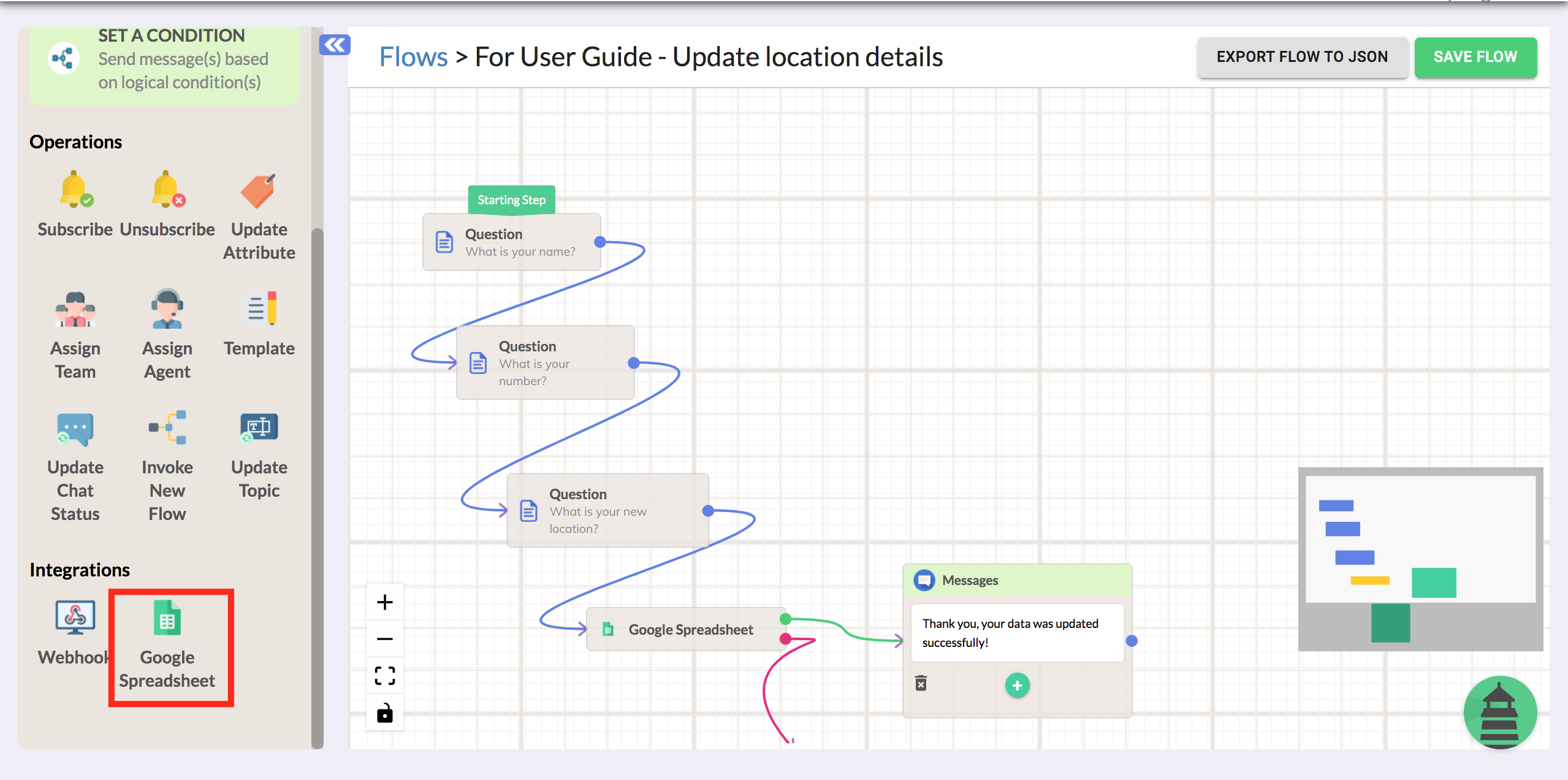 Connecting to the Google Spreadsheet node:
Hover over the edit button on the Google Spreadsheet node
Add your Google account and allow permissions
Select the spreadsheet you want the data to be inputted in
Select which sheet tab of the spreadsheet for data input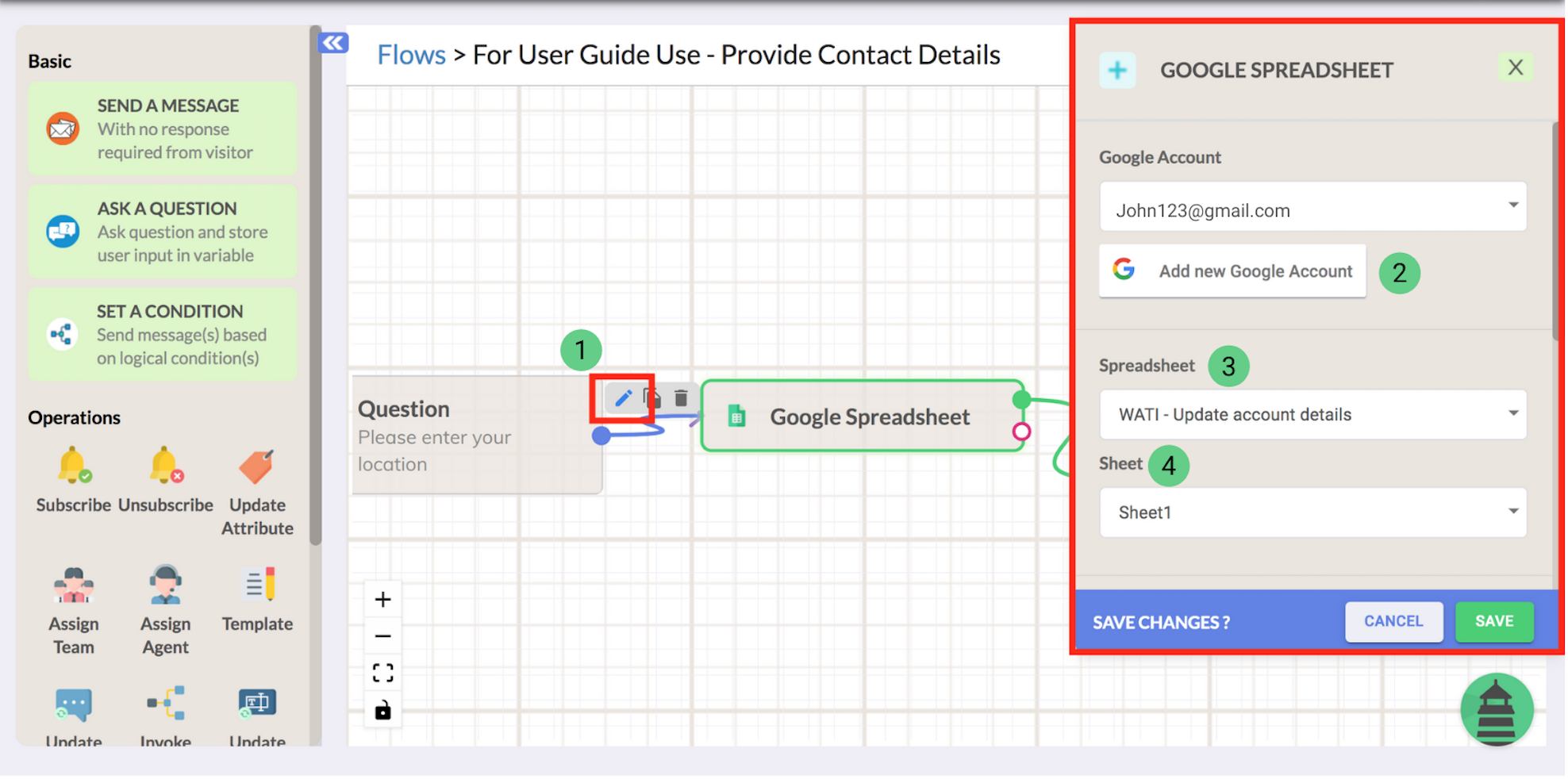 If you are creating a spreadsheet for the first time, choose "insert a new row". Then, enter the variables that you wish the Google Spreadsheet to track, they should match the same as your flow variables and Google Spreadsheet column variables.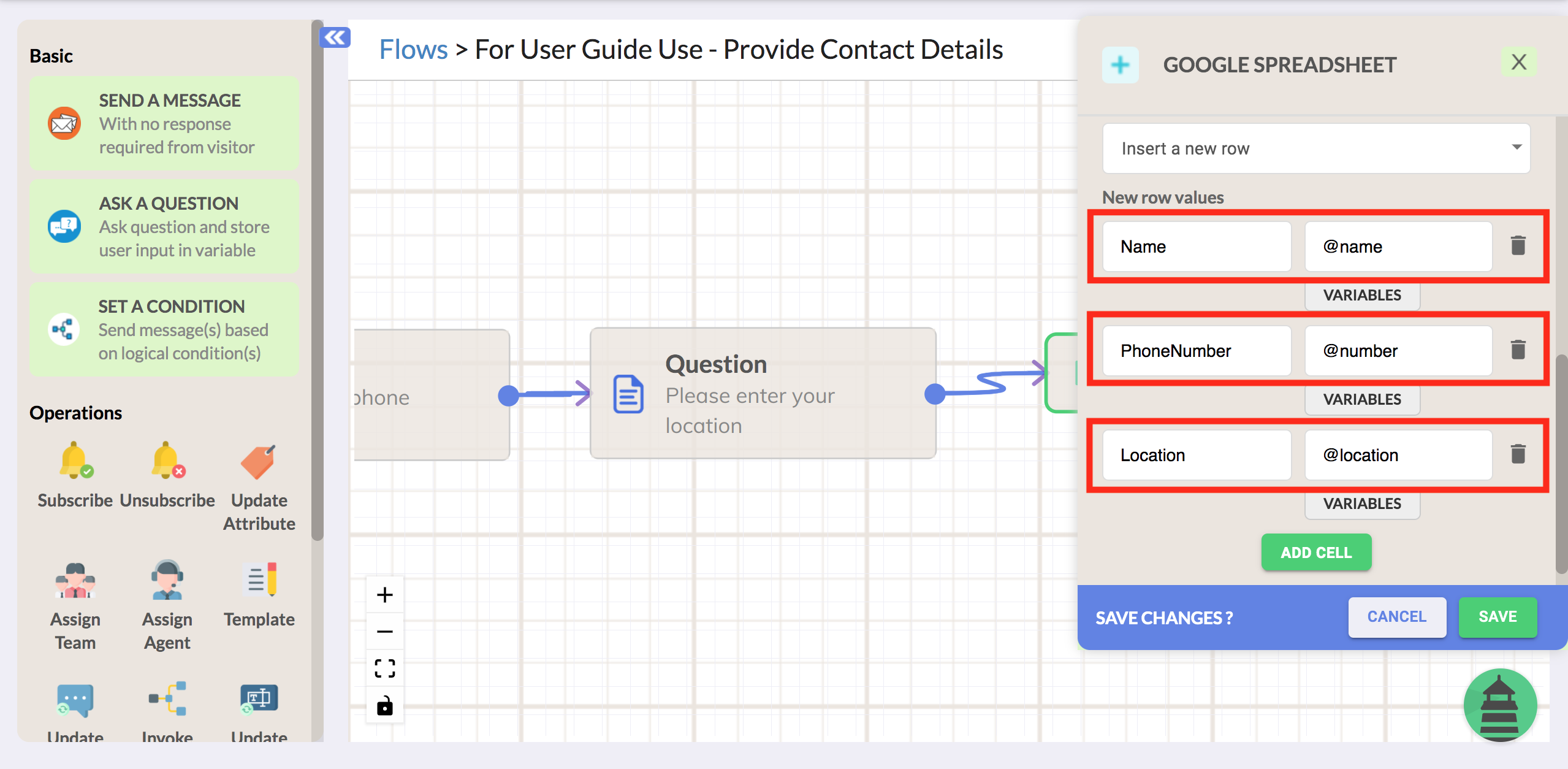 Click "save" and then remember to "save" your flow too.
Setting up the keywords: Now you need to configure the keywords for this flow so that the user can trigger the flow
Go to Automation
Keyword Action
Add Keyword Action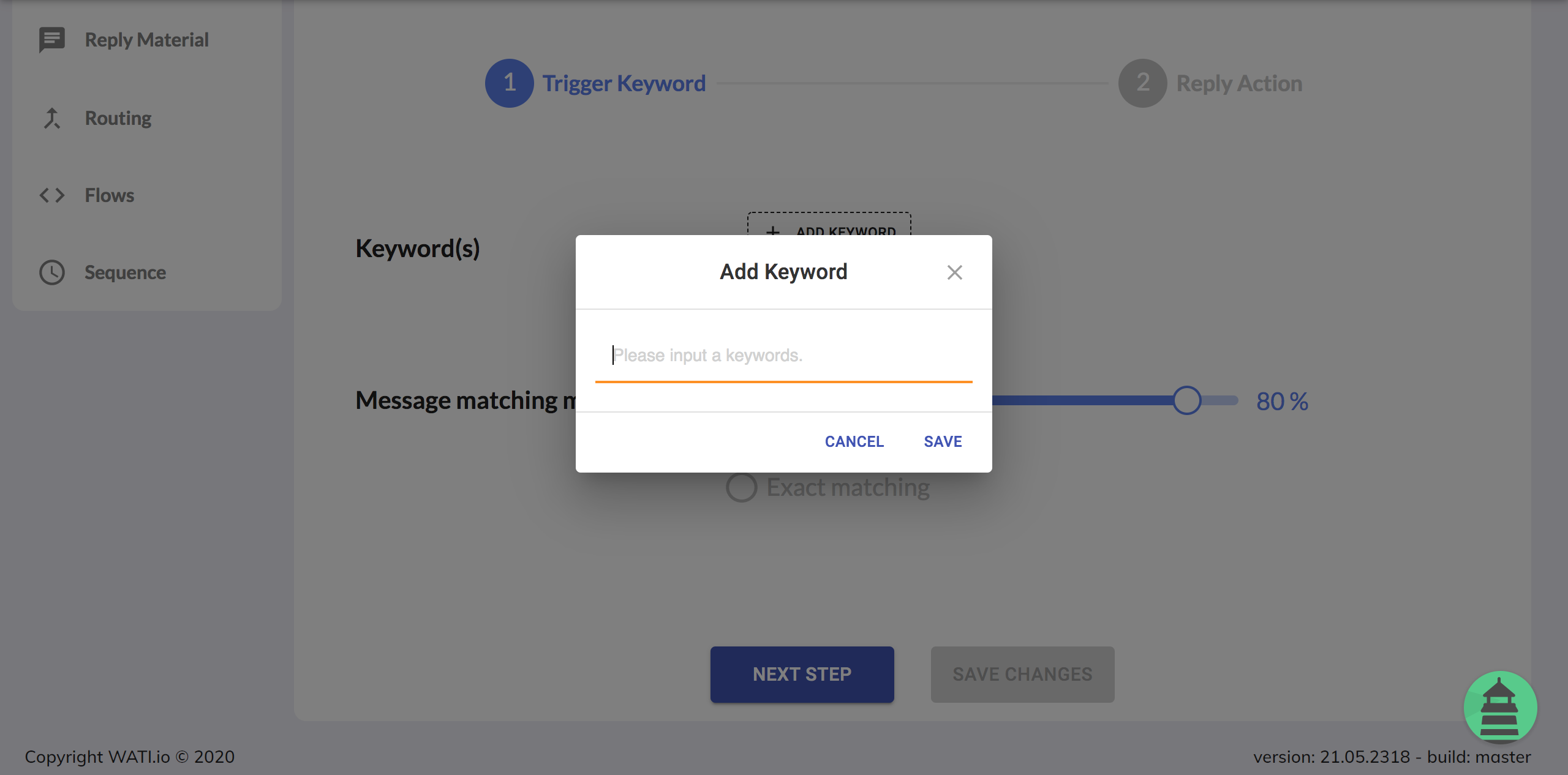 Enter the unique keyword that you want the user to be able to trigger the flow, such as "I am a new customer", you can choose exact matching or fuzzy matching.
Click on the next step
Flows
Search the name of your flow
Tick the box of the flow and save
How to Test
Use your registered WATI account number and type in the keyword to activate the flow. Here typing "I am a new customer" will activate this flow within Whatsapp.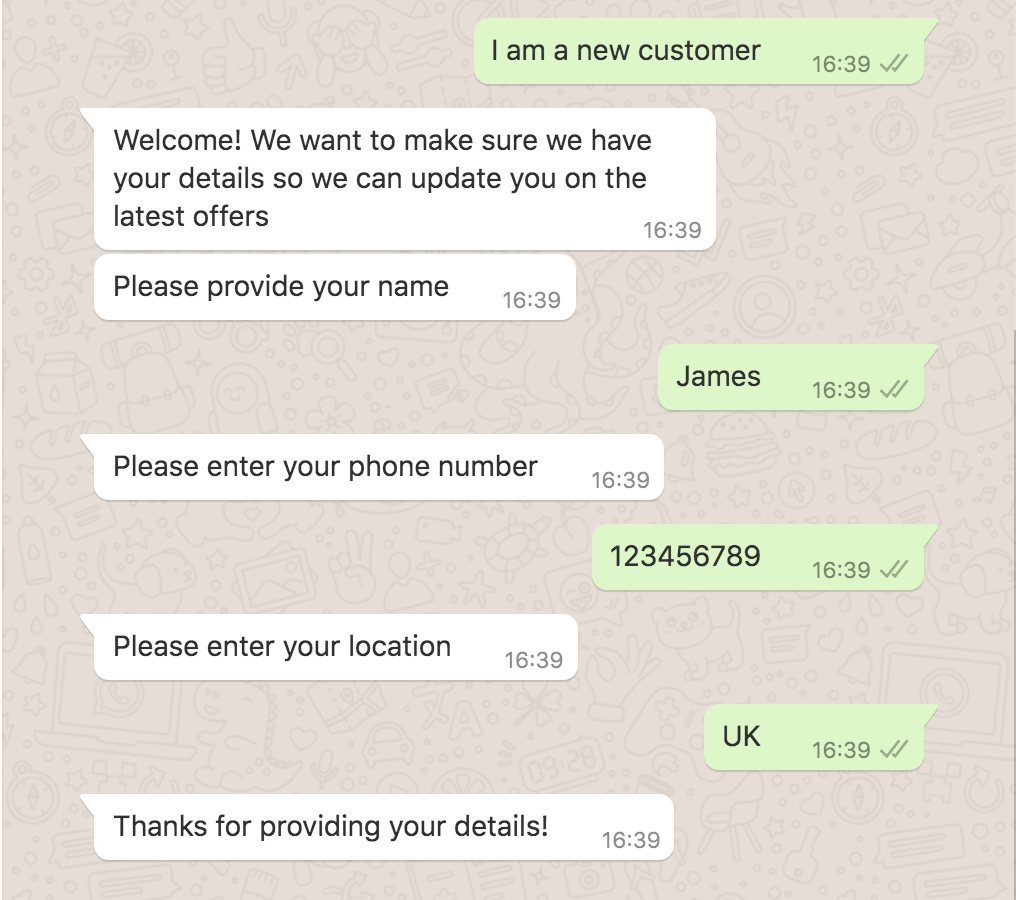 The data will automatically update in the selected Google Spreadsheet, as shown below: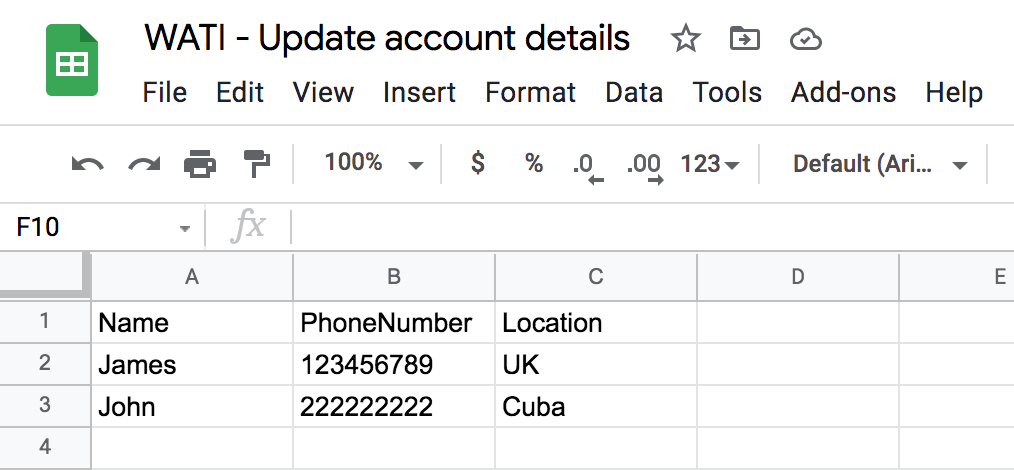 This sheet will automatically input data whenever the user triggers the flow, you can proceed to share the spreadsheet with anyone else in your team for their viewing.