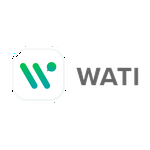 Updated by Equipe de Suporte
With our 7-day Free Trial, you can try out various functionalities of WATI without paying anything.
There are quite a lot of WATI functions that TRIAL users can check out and try - don't be a stranger.
Also, please check out multiple tutorial videos our team made for you in all sections of the WATI:

Under Team Inbox,
Try sending a message to your own number
Attaching media: images, videos, documents
Using emojis and stickers
Full access to quick reply functionality (able to create, edit and delete quick replies)
Using pre-rendered chatbots
Sending templates (to your own number)
Under Broadcast,
Sending broadcasts immediately and scheduling broadcasts to be sent in the future (to your own number)
Using overview tiles to observe your broadcast progress
Creating and editing templates (can't submit)
Under Automation,
Try out creating different keyword actions (can't save)
Try out creating with chatbot builder both from scratch and from already existing templates (can't save). You can try out already existing chatbots at https://app.wati.io/.
Under Dashboard,
Play around with our analytics and see what you can track with WATI
Under Integrations,
Under API docs,
Most of our requests are available for TRIAL users
This depends on what requests you want to see
Under Settings,
Most functionalities are mostly restricted, but TRIAL users can still change their name and try out notifications
Under User Management and Webhooks,
This is available only for paid users