Conversation Based Pricing For WhatsApp Business API
Conversation Based Pricing For WhatsApp Business API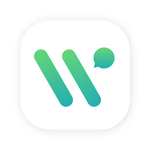 Updated by Helpdesk
Days are gone when WhatsApp used to charge based on the message templates. From February 2022, WhatsApp will be switching to a conversation-based pricing model globally.
Let's check out what's new in this conversation-based pricing model and how you maximize your returns on your WhatsApp Business API number.
What Is Conversation-based Pricing?
For WhatsApp API, Facebook will implement a new conversation-based pricing model for all businesses globally sending WhatsApp messages.
This new pricing model will go into effect on February 1, 2022, and move from a per template/session charge to a complete conversation-based model.
These charges will be applicable based on the initiator of the conversation (either business or end-user).
Note: WATI will comply with the changes in the pricing model and check out WATI's WhatsApp API Pricing.
How Does The New Pricing Model Work?
The new WhatsApp Business API conversations will fall into two categories that will be priced differently:
User-initiated Conversation-  Where users reach out to the business regarding support and general queries.
Business-initiated Conversation-  Where business will deliver Notifications or messages.
Note: These conversations are measured in 24-hour increments, or "sessions", that start whenever the first message from a business is delivered.The first message can be initiated by the business (business-initiated) or a business reply within 24 hours of a user message (user-initiated).
You will be able to send
unlimited messages during a 24-hour period and only be charged once
, to understand more about the benefits of this please refer to our
Conversation Pricing overview
article.
Important points to remember -
1. WhatsApp will charge only once per 24-hour session of messaging between a business and a customer(There will be no extra charges for sending any template messages once a new session starts)
2. The charges will be different, depending on who initiated the conversation. (the business or the end-user).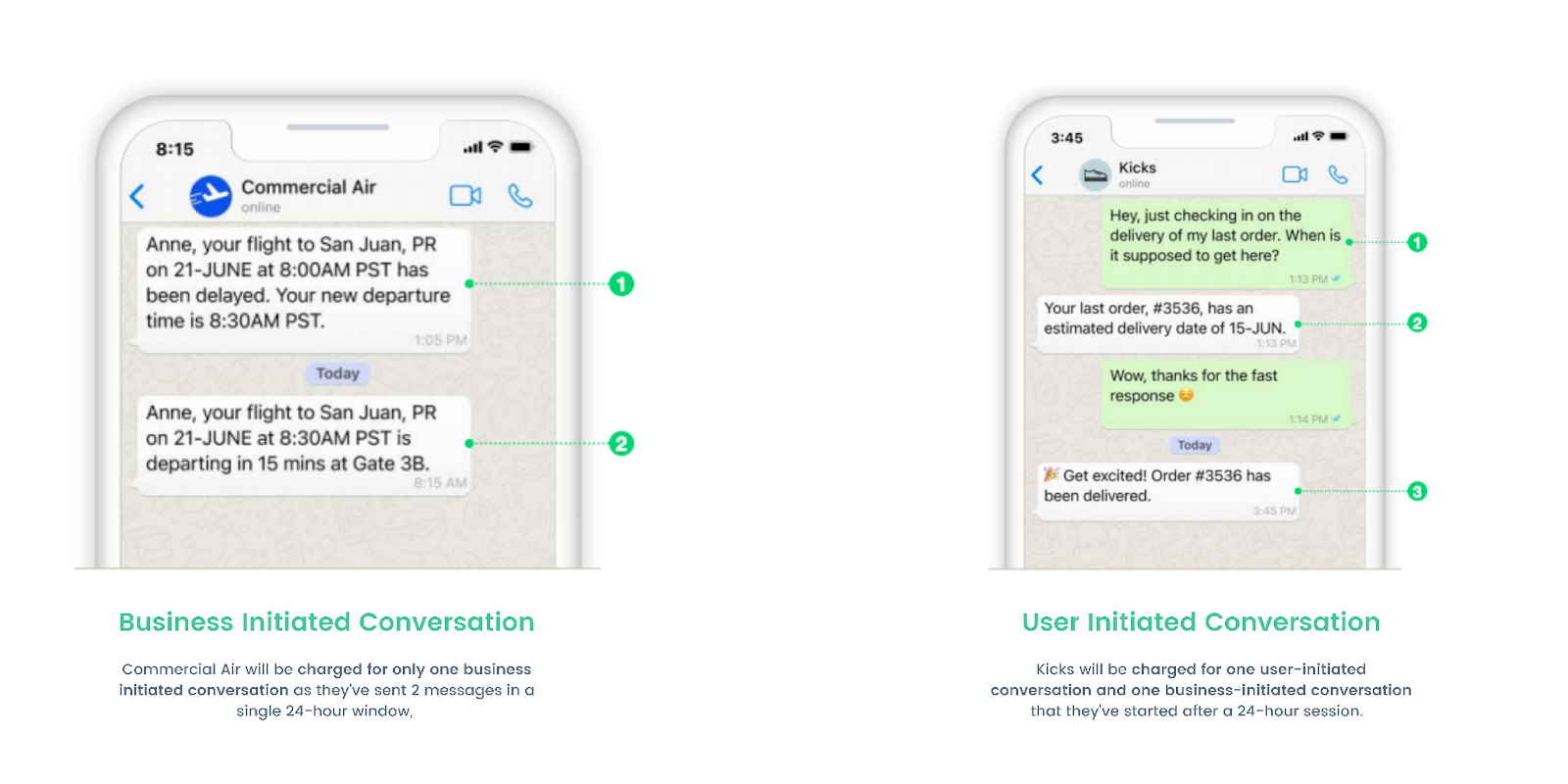 Free Tier Conversations
The first 1,000 conversations each month will be free, so your business can start to build experiences your customers will love before having to pay. Each phon enumber gets 1,000 free tier conversations. Free tier conversations can be business-initiated or user-initiated.
Note: First 1000 conversations each month (business or user initiated) will be free per phone number
How Will This Impact Your Business?
Businesses Sending Frequent Notifications: If you are sending multiple messages or Broadcasting messages on WhatsApp within a 24-hour period, you will now pay for a single conversation per user for starting the conversation. 
Businesses Sending Infrequent Notifications: If you are sending messages over multiple 24-hour periods, you will now pay for each conversation based on business-initiated conversation pricing.
Customer Support On WhatsApp: If you are responding to incoming user-initiated messages, then you will be charged for user-initiated conversation-based charges.
Should we welcome WhatsApp's new Conversation-based Pricing model?
It is very clear that Facebook now wants businesses to establish good & fast communication on WhatsApp so that users don't get unexpected notifications & promotional messages on WhatsApp.With this move, every new conversation will be charged by WhatsApp hence it'll reduce the number of less relevant conversations. That'll surely maintain the trust of people on WhatsApp.
What should the businesses do to get the most out of the new pricing model?
Well, it depends upon a business's use case for WhatsApp Business.
1.  If you are into customer support, try to resolve queries as soon as possible. You can use WATI's Multi-Agent Dashboard For WhatsApp to manage your customer support efficiently. If your support team has limited work hours, consider building a WhatsApp Chatbot that'll help in solving basic support queries on WhatsApp.
2. If you are putting your marketing Efforts via WhatsApp Business, now it's time to revamp your notification strategy. You need to focus on how you can provide more value to the users in the least number of notifications possible. Also, you need to avoid Daily notifications as it may very well result in a permanent ban for misusing WhatsApp Business Account.
In the end, it all comes to the end user's experience with your WhatsApp Business account. If that's your priority, you'll not be much bothered with the new pricing model.
If you want to learn how you can leverage WhatsApp Business API for your business, Join A Demo with our team.
Conversation Fees (valid as of 1st Feb 2022)
The charges will be calculated based on the end-users phone number.
| | | |
| --- | --- | --- |
| Country | Business Initiated Rate (USD) | User Initiated Rate (USD) |
| Argentina | 0.06312 | 0.03792 |
| Brazil | 0.06 | 0.036 |
| Chile | 0.09084 | 0.05448 |
| Colombia | 0.012 | 0.0072 |
| Egypt | 0.12876 | 0.07728 |
| France | 0.17184 | 0.10308 |
| Germany | 0.1638 | 0.09828 |
| India | 0.00792 | 0.0048 |
| Indonesia | 0.03792 | 0.0228 |
| Israel | 0.036 | 0.0216 |
| Italy | 0.07716 | 0.04632 |
| Malaysia | 0.08784 | 0.0264 |
| Mexico | 0.04188 | 0.0126 |
| Netherlands | 0.1782 | 0.10692 |
| Nigeria | 0.06192 | 0.0372 |
| Pakistan | 0.05676 | 0.01704 |
| Peru | 0.07176 | 0.02148 |
| Russia | 0.07956 | 0.04776 |
| Saudi Arabia | 0.039 | 0.0234 |
| South Africa | 0.0336 | 0.02016 |
| Spain | 0.0738 | 0.04428 |
| Turkey | 0.012 | 0.0036 |
| United Arab Emirates | 0.03792 | 0.0228 |
| United Kingdom | 0.07764 | 0.04656 |
| North America | 0.01764 | 0.01056 |
| Rest of Africa | 0.14496 | 0.04356 |
| Rest of Asia Pacific | 0.0894 | 0.02688 |
| Rest of Central & Eastern Europe | 0.1002 | 0.03 |
| Rest of Latin America | 0.08472 | 0.05076 |
| Rest of Middle East | 0.08724 | 0.02616 |
| Rest of Western Europe | 0.15888 | 0.04764 |
| Other | 0.05796 | 0.0174 |
List of countries in a region
North America
Canada
United States
Rest of Africa
Algeria
Angola
Benin
Botswana
Burkina Faso
Burundi
Cameroon
Chad
Congo
Eritrea
Ethiopia
Gabon
Gambia
Ghana
Guinea-Bissau
Ivory Coast
Kenya
Lesotho
Liberia
Libya
Madagascar
Malawi
Mali
Mauritania
Morocco
Mozambique
Namibia
Niger
Rwanda
Senegal
Sierra Leone
Somalia
South Sudan
Sudan
Swaziland
Tanzania
Togo
Tunisia
Uganda
Zambia
Rest of Asia Pacific
Afghanistan
Australia
Bangladesh
Cambodia
China
Hong Kong
Japan
Laos
Mongolia
Nepal
New Zealand
Papua New Guinea
Philippines
Singapore
Sri Lanka
Taiwan
Tajikistan
Thailand
Turkmenistan
Uzbekistan
Vietnam
Rest of Central & Eastern Europe
Albania
Armenia
Azerbaijan
Belarus
Bulgaria
Croatia
Czech Republic
Georgia
Greece
Hungary
Latvia
Lithuania
Macedonia
Moldova
Poland
Romania
Serbia
Slovakia
Slovenia
Ukraine
Rest of Latin America
Bolivia
Costa Rica
Dominican Republic
Ecuador
El Salvador
Guatemala
Haiti
Honduras
Jamaica
Nicaragua
Panama
Paraguay
Puerto Rico
Uruguay
Venezuela
Rest of Middle East
Bahrain
Iraq
Jordan
Kuwait
Lebanon
Oman
Qatar
Yemen
Rest of Western Europe
Austria
Belgium
Denmark
Finland
Ireland
Norway
Portugal
Sweden
Switzerland
Other
All other countries not listed in the above regions or specifically listed in the above tables.